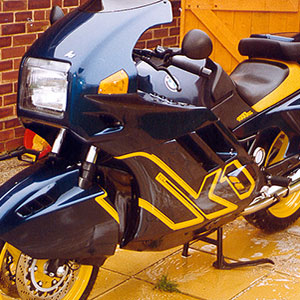 As my wife is pregnant I thought I'd trade the BMW K100LT touring 'bike in for something a little more sporty.
The fact that Ongar Motorcycles had a cancelled order for this hard-to-get model just sitting there in the showroom made it very hard to resist.
Without a doubt an impulsive decision that I regretted the moment I rode the 10 miles home. It was great to look at but the riding position, crouched over the tank just isn't for me.
I placed an advertisement in Motorcycle News & it was gone in a week and I didn't even lose much money as it was such a rare model especially in blue.