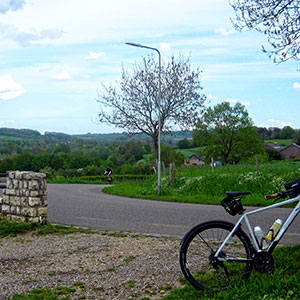 This morning's 46 km ride was another exploration of the hills of South Limburg to the south-west of Heerlen.
Camerig is a well known climb for cyclists and is often included in the route for the Amstel Gold Race.
It started as I left Epen and rises for a distance of 4.7 km.
Over this distance the elevation gain is 195 metres and the average gradient is 3.7%.
All of this amounts to one of the toughest ascents I have ever made on a bike and it really was a test of legs, heart & lungs.
Today's featured image is from a point roughly half way up Camerig.
I had to pause here for a while to catch my breath and fuel myself with energy drink.