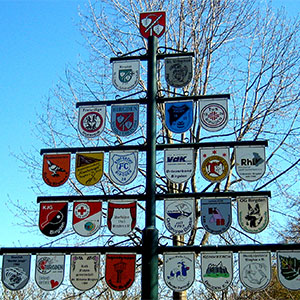 Almost half of this morning's 52 km cycle ride to the north of Heerlen was through Germany.
Another lovely warm spring day greeted me as I set off and continued for the duration of the ride.
Progress was brisk on familiar roads and tracks as far as the German town of Geilenkirchen which I passed through last week, in the opposite direction.
From here I continued north for a further 8 km before turning southwards towards home.
This whole area of Germany is relatively flat, compared with the hilly terrain in South Limburg.
Today's featured image is from the village green at Birgden, Germany, where I stopped for a short break.