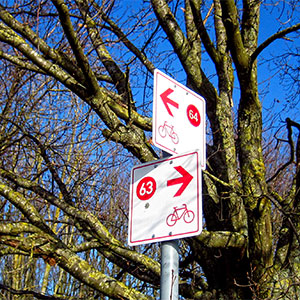 Today's warm, sunny, spring-like weather encouraged me to to take a 58 km cycle ride into Germany, my longest ride of the year so far.
It was, by far, the warmest day so far this year in South Limburg, with temperatures reaching 11 degrees.
Around half of today's ride was in nearby Germany and the whole route was on either the Dutch or German national cycle networks.
These are clearly signposted cycling routes on low traffic or no traffic paved tracks.
Many are designed to take cyclists through scenic countryside, forests and national parks.
Such routes are easy to navigate, using the numbered junction system or with a dedicated cycling GPS platform such as the one I use, Ride with GPS.
This was another great ride out in hilly terrain and with heavy snow forecast over the next few days, it may be the last ride for a while.
Finally, I noticed today that I've now cycled over 5000 km (5015) since acquiring my new bike, 'ANNA' at the end of May 2020, still on the original tyres and brake pads!