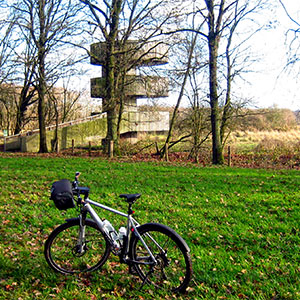 Today's 28 km cycle ride included 15 km of unpaved tracks through Weerterbos and the Dutch Military training area to the north of Weert.
These are areas I've cycled through frequently in the past but the views are always different.
Today I discovered a Uitkijkpost (lookout) not far from the cycle track in Weerterbos.
This was probably visible today due to the surrounding trees having lost their leaves since my last visit.
From here I found a designated mountain bike track which meanders through the sandy terrain of the military training area.
This section of the ride was particularly challenging due to the slippery mud and exposed tree roots but a lot of fun was had as well.