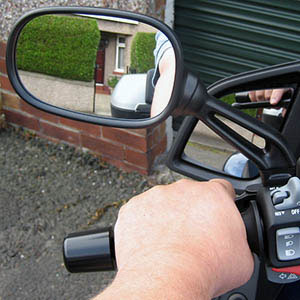 The rear view mirrors on my BMW R1200RT-SE are built into the fairing & therefore do not move with the handlebars.
This can occasionally be a problem at acute junctions when visibility can be limited so I thought I would try some auxiliary mirrors.
Photographs can be deceiving in that the rear view afforded to the seated rider by the standard mirrors is clear & unobstructed and the fitment of the BMW auxiliary mirrors do not obstruct the view in any way, but instead cover potential blind-spots.