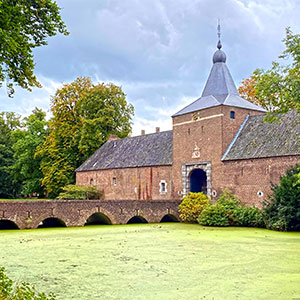 This weekend's cycle ride is a planned 235 km, two day adventure following the famous 'Maasroute'. 
This is a 480 km route alongside the river Maas (Meuse) which stretches from the Belgian border, south of Maastricht, all the way to the North Sea near Rotterdam.
I have chosen a 235 km section of the Maasroute from Oss, in North Brabant, south as far as Itteren in South Limburg with an overnight stop in Venlo.
To achieve this I was awake at 05:00 this morning, ready for the bike and me to be transported by car to my start point at Oss.
I started cycling just after 08:30 and joined the Maasroute a few kilometres later at Dieden.
The great attraction of this route is that it's almost exclusively along dedicated cycle paths and quiet rural lanes.
The landscape here is extremely flat, in contrast to the rolling hills of South Limburg, so I was able to make good progress despite the high winds.
The featured image today is of Kasteel Arcen, close to the Maas and not so far from my overnight stop in Venlo
Today I cycled 106 km, my longest one day ride this year.
I arrived late afternoon at the excellent Inn d'n Acht bed and breakfast in the centre of Venlo and enjoyed a leisurely evening sampling local beers and a nice meal.