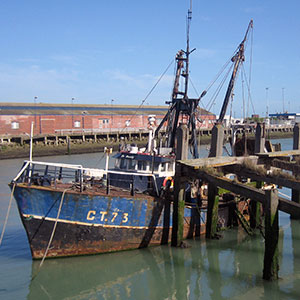 Newhaven port is a busy commercial, fishing & general freight port as well as a ferry terminal for the cross channel service to Dieppe in northern France.
Located due south of London, between Brighton & Eastbourne on the south coast, it has recently become even busier due to it becoming the maintenance base for the recently constructed offshore wind farm near Brighton.
I remember using the ferry many years ago, before the leisure marina was constructed opposite the ferry berth.
The ferry always docks bow towards the berth & years ago it was turned in it's own length by 'warping' the stern against the wharf. The thick steel plates placed to protect the wharf can still be clearly seen.
Nowadays there is no room to turn the ferry, because (a) it's longer than previous ferries & (b) the marina occupies the former turning space.
When leaving the port the ferry goes astern until it reaches the outer harbour where it turns around before heading over to France.
Wandering along the quayside I came across a very old fishing trawler tied up against a dilapidated pier, barely seaworthy & clearly not used for quite a while.