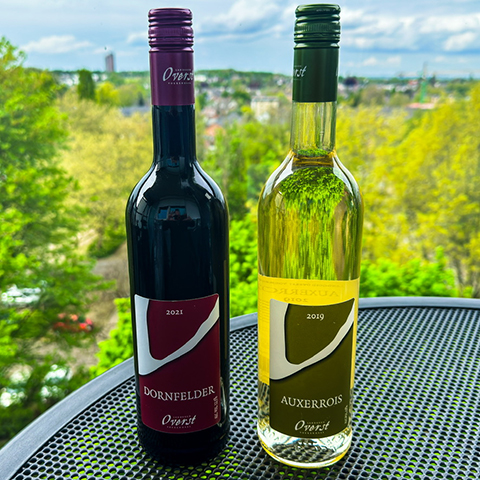 Following my recent cycle ride past the vineyards near Voerendaal, we managed to track down a couple of bottles of wine from these vines, produced locally by Overst winery.
The Netherlands is not known as great wine producing country, compared to France or Italy.
However there are a number of small producers here in South Limburg and this is the first time we've actually sampled local wines.
Yesterday afternoon we tried the Overst red wine made from a German grape variety called 'Dornfelder'.
Normally, our red wine of choice is a soft French produced Merlot.
Compared to this we both found the Dornfelder quite 'sour' and difficult to drink.
The Overst wines were €8.00 for a 750cl bottle, whereas our favourite Merlot is just €4.50 for a litre bottle.
After half a glass Ans went back to the Merlot and after two and a half glasses I really could not enjoy the new red wine.
I think the remaining half bottle will end up in a sauce at some point.
The white wine we have from Overst is made from Auxerrois grapes, normally grown in the Alsace area of France.
Apparently it produces a wine similar to Chardonnay and we will look forwards to sampling this once it's chilled a little.