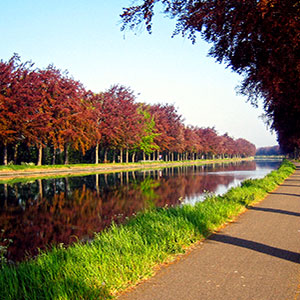 Today's 92 km cycle ride started early and took me south, deep into the Belgian province of Limburg & along many new cycling roads.
You can see from the route profile in the map below that I encountered some considerable inclines, that I've not encountered closer to home, all of which I managed with little additional effort.
As I cycled through the forests to the north of the village of Wiemesmeer it became apparent that a recurring problem with the bike's rear wheel had once again returned. The wheel bearings had become loose again and the bike was un-rideable.
It's Sunday, I carry no tools and I'm now about 45 km from home!
I contacted a cycling acquaintance, who lives near Maastricht, over 20 km away, in the hope that he wasn't also enjoying the glorious sunny cycling weather. Fortunately, for me, he was at home and said he would be with me , with his toolbox, in a couple of hours.
Eventually I was on my way again, cycling home via a different route, hoping that the wheel would remain secure.
All things considered this was a great cycling day, along new routes in glorious warm sunshine, but I really need to upgrade my bike to something more suitable for the kind of cycling I'm doing now.