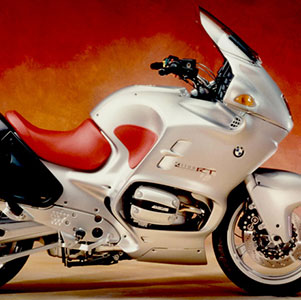 This year BMW  Motorrad are celebrating their 75th anniversary.
To mark the occasion they made a number of '75th' special edition models including a very nice silver R1100RT with red seats.
The difference between these models & the standard 1998 models was largely cosmetic and included the document pack shown in the photo gallery.
Only a handful of these are being imported into the UK and as I have a good relationship with the supplying dealer, Bath Road Motorcycles in Bristol, they ensured it was un-crated and prepared for the road in double-quick time as I am due to go abroad tomorrow morning, 26th March.
The crate containing my brand new BMW was dispatched from the factory in Berlin on 16th March, arrived in Bristol 23rd March and collected by me today!
I arranged for the colour matched luggage lids to be painted in advance so it would be complete for my trip to France.
Sincere thanks to all concerned.