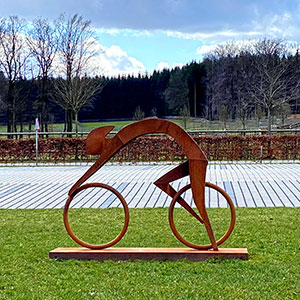 Yesterday's 80 km cycle ride started in Germany, passed through Belgium and finished in the Grand Duchy of Luxembourg.
The route itself was a continuation of the Vennbahn, the first segment of which I cycled last October.
Yesterday I started at kilometre 49 on the Vennbahn near the German town of Monschau.
From here I headed south towards my eventual destination, Troisvierges in Luxembourg.
It wasn't the warmest of days to start with, with rain threatening for the first hour or so.
However, once I'd booked the overnight hotel in Troisvierges a week ago I was committed regardless of the weather.
Around every corner and over every hill the landscape changed dramatically from fenlands, forests, river valleys and steep ascents, followed invariably by matching downhill sections.
It's quite a demanding route with many hills in the last 20 km or so.
I needed to summon one more surge of energy for a final steep 1 km climb away from central Troisvierges to my overnight stop at Hotel Lamy. 
This was a truly fabulous cycling adventure through some of the most amazing and demanding terrain but my reward came with the fantastic views wherever I looked.
I took a lot of pictures which I think tell the story of the ride much better than words can.