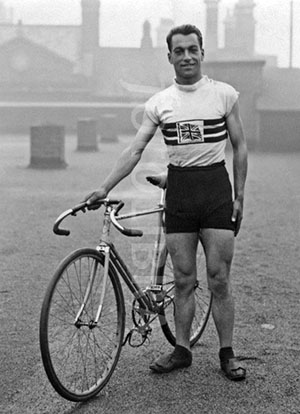 Recently I discovered that the very first Englishman to enter the Tour de France, in 1937, was one Charles Holland.
My inquisitive nature and keen interest in history/genealogy meant that I couldn't resist finding out a bit more about this cycling pioneer.
Charles was born in Aldridge, West Midlands in 1908.
He enjoyed early road & track racing success as an amateur rider with the Midland Cycling & Athletic club between 1928 & 1937.
He represented Great Britain at the 1932 Los Angeles Olympic Games in the road race in which he finished 15th. More significantly, in the track team pursuit with three others, he won the bronze medal for third place.
In 1934 Charles again represented Great Britain, this time at the World Championship road race in Leipzig, Germany, where he achieved a very creditable fourth place despite three broken spokes and the disadvantage of a single high gear rather than variable gears.
Two years later Charles was selected to represent Great Britain at the Berlin Olympic Games, the so called 'Hitler Olympics'.
He rode in the 100 km road race and was reserve for the 4000 metre team pursuit on the track. Joint fourth place & less than a second behind the winner of the road race was another great result. However, he wasn't called upon for the team pursuit quartet that finished in fifth place.
This period was considered the peak of his cycling career as he became the Best British All Rounder, at time trails of 50 miles, 100 miles and 12 hours, at an average speed in excess of 22 mph.
10 years after his first competitive race, Charles Holland turned professional in April 1937 and continued to compete both on the road and track.
With barely two weeks notice, he gained a place in the 1937 Tour de France as a result of another rider withdrawing. There was no organised team as such, just himself and two others forming a makeshift 'British Empire' team.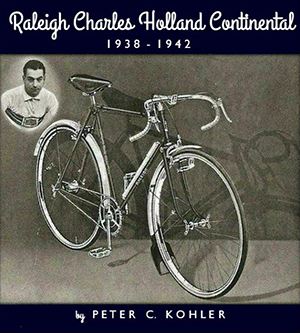 The other two dropped out in the early days of the tour but Charles lasted two weeks and over 2000 miles before a puncture, whilst he was in touch with the leaders, put an end to his endeavours.
There were no team cars then so riders had to carry a spare tyre and basic tools to help themselves on the road. It turned out that his tyre pump was faulty and having lost so much time after getting it fixed he decided enough was enough.
The following year was his time for setting various place to place records on the road, including Lands End to London (twice!) and Liverpool to Edinburgh.
At the outbreak of war in 1939 Charles was called up to the Royal Corps of Signals and by 1945 he was deemed to old, at 37, to continue his professional cycling career. Charles Holland died at Aldridge in 1989, aged 81 years.
A fuller account of his life & career can be found here.
A very detailed account of the 'Raleigh Charles Holland Continental' cycle can be found by clicking the image above.
Finally, it transpires that Charles Holland and myself are not related.