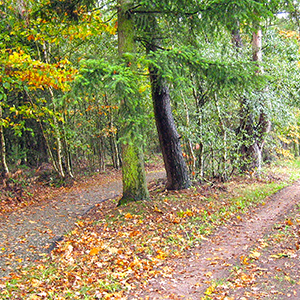 Kempen-Broek Border Park is best described as a huge area of outstanding natural beauty straddling the Dutch/Belgian border area in Limburg & North Brabant.
This morning's brisk 29.5 km cycle ride included a very colourful track through Laurabossen, a forest complex close to Weert.
Heavy rain over the weekend, together with fallen leaves made the track extremely slippery so I took it nice & slowly, not really liking the idea of a spill.
In a few places the tracks were really muddy and on one occasion I had to get off & walk about 100 metres to get around workmen trimming trees
A great couple of hours out on the bike this morning & I'm encouraged by the gradual increases in my average cycling speed, which at 17.5 km/h today was my fastest recorded since April this year.