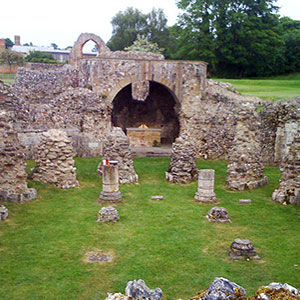 Wednesday 26th May 2010.
My son Tim was not baptised when he was a child.
We made this choice deliberately as we believe such a thing is an adult choice.
Subsequently, while he was a student of history at Canterbury Christ Church University, Tim chose to be baptised into the Anglican church.
As a keen observer of all things historic, Tim was baptised in the ruins of St Augustine's Abbey in Canterbury, on St Augustine's Day, 26th May.
This was a very important, sombre, moving occasion for Tim & us, his parents.
To say we were filled with pride is an understatement & the day would not have been complete without a celebratory drink at the local pub!