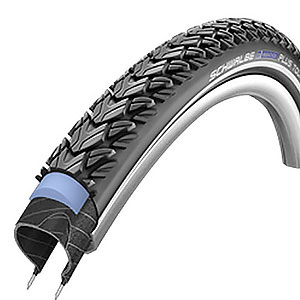 It's been a month since acquiring my second-hand cycle, and I was aware at the time that it would need two new tyres before very long.
I managed to wring another 305 km out of them before the total lack of tread and a split in the sidewall of the rear tyre put the brakes on my cycling adventures.
As I've been riding quite a distance from home recently, it occurred to me how vulnerable I might be to punctures & being consigned to a long walk home in the event of a flat tyre.
So I carried a small repair kit, hoping that I wouldn't really need it.
It seems a lot has happened to cycle tyre technology in the 40 or so years since I last owned a cycle, so I felt the need to do a little research into this apparently complicated subject.
Hours of research later I have settled on 'puncture-proof' tyres from a German company, Schwalbe, specifically their Marathon Plus Tour, which seems to be the best all-round tyre for my needs.
Delivery of new tyres, inner tubes & rim tape is expected by the weekend & no doubt a running report will appear in due course.