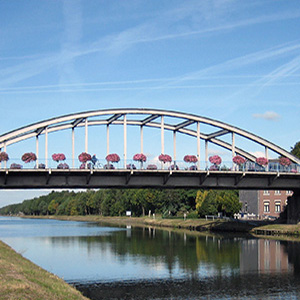 It's been an interesting year for me here in the Netherlands.
At the end of April I acquired a second-hand bicycle as I needed some transport and a car of some sort was beyond my reach.
Before long my childhood passion for cycling, for recreation rather than just for essential transport, was rekindled and I have certainly explored the highways and byways of Limburg & North Brabant (Netherlands) as well a a fair part of northern Belgium as well.
I've cycled a total of 1916.6 km in 47 individual daily rides, some planned and others not.
That's an average of 40.77 km for each ride or 16.17 km for each of the 118.49 hours actually ridden.
Since November, when I started using a different tracking app on my iPhone, I'm told I've burned almost 12000 calories which probably explains how I've managed to shed some 35 kg of weight. Still a little more to lose but I feel much fitter & healthier than before the arrival of the bike.
Although I'm in no particular hurry when I'm out cycling for fun, my competitive instincts have also been resurrected and always want to ride a little faster or longer distances whenever I can.
Every one of my cycle rides this year has been GPS tracked and may be found on my Ride With GPS page.
November also saw the beginning of my participation in the Cycling Down Dementia campaign in support of Alzheimer's Research UK.
This involves me cycling 1000 km between 1st November & 31st January 2020 and hopefully raising donations for a very worthy cause.
As of today I have cycled 660 km in the first two months of the campaign, which leaves just 340 km to ride in what will be the coldest month of the year. I'm motivated, determined and confident that I will reach my target before the last day of the campaign.
My account of the rides towards the Cycling Down Dementia campaign may be found here.
Exploring the Dutch & Belgian countryside this year I have taken many hundreds of photographs, 1225 of which may be found here.
The image above is one of my favourites, the bridge over the Bocholt–Herentals canal at Overpelt, Belgium taken during my ride on 19th September.
My last cycle ride of the year was a nice 52.6 km trip up near Asten in North Brabant on 30th December, my 64th birthday.
There are many more roads to explore both near & far and I have exciting cycling plans for 2020, especially when the weather warms up a bit!