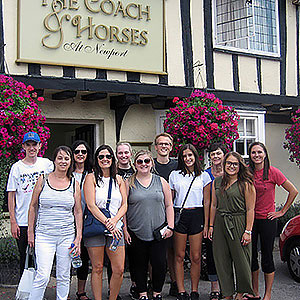 How time flies. Can't believe it's a year since I collected these lovely people from Stansted airport at the beginning of their European holiday.
12 months ago, my third cousin, Mary Winifred Holland STREMICK (Nee'STANLEY), two of her daughters & eight grand-children came for a four day stay in England, before heading off to Europe for another eleven days in several different cities. A masterpiece of organisation!
They all live in Fargo, North Dakota & Minneapolis, Minnesota, USA.
First stop:The Coach & Horses pub in Newport, Essex, right next door to where my maternal grandparents lived for over 30 years.