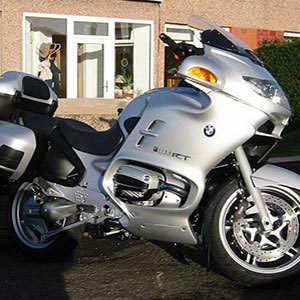 I collected my new BMW R1150RT motorcycle from John Clark BMW in Dundee this afternoon.
They don't sell to many motorcycles in the middle of winter so I certainly managed to negotiate an advantageous price even though it was a factory order.
This replaces my five year old BMW R1100RT (acquired second-hand 18 months ago) on which I covered 17019 miles including six overseas tours.
BMW introduced a significant number of improvements with the 1150RT including an increased engine size, much improved brakes/suspension and cosmetic changes to the bodywork.
I doubt I'll be doing much riding over the winter but I shall certainly look forwards to riding Big Sylvia once the weather improves.