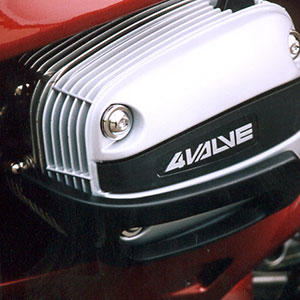 It's fair to say, I think, that I always take very good care of my motorcycles, both mechanically and cosmetically.
I acquired Big Ruby second hand about 18 months ago and have ridden over 17000 miles on her since then.
This BMW R1100RT was in fair condition when I bought it locally from a non-BMW dealer and since then I fitted a BMW topcase and had the luggage lids colour matched to the rest of the bodywork.
Arrival of my new BMW R1150RT is imminent and although Big Ruby is sold I wanted her to be in the very best condition when her new owner collects her in a couple of weeks.
After a good wash and polish I decided to have the side stand, centre stand and cylinder head covers powder coated black and silver respectively.
I used new stainless steel springs when re-assembling the stands and new chrome fasteners for the covers and once finished Big Ruby almost looked brand new and not over five years old.
I hope the new owner appreciates my efforts.