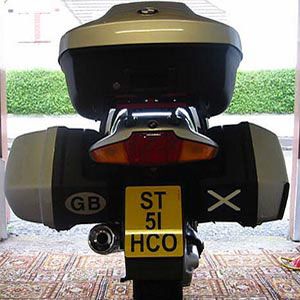 My BMW R1150RT touring motorcycle came with standard black luggage panniers.
I added the BMW topcase and had all the lids painted to match the rest of the 'bike.
Under most circumstances this may be considered ample luggage capacity for two persons to go touring but experience has taught me that you can never actually have too much luggage capacity on a touring motorcycle.
A lot of 'bikers simply strap on extra soft bags or get their pillion to wear a back-pack but I don't like either option.
I much prefer everything to be safely stowed inside purpose built panniers that are firmly attached to the 'bike.
So, when I saw that BMW themselves actually produced extra-volume pannier lids, I immediately acquired a pair and had them painted silver.
You can see from the photographs the significant extra volume that is provided and together with matching inner bags my long distance touring ensemble is complete, just in time for our planned trip to Italy, more of which in another post.