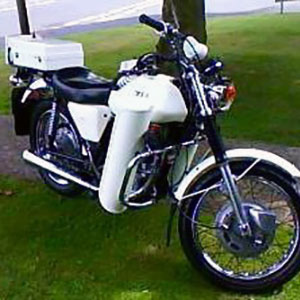 1972 BSA B25 Fleetstar Police Motorcycle, Gloucestershire Constabulary
I was stationed at Coleford police station in the Forest of Dean in 1977-78, during which time I rode this particular motorcycle on an almost daily basis whilst going about my duties.
This was the actual motorcycle I passed my 'bike test on.
On 30th January 1978, I rode BAD31K the 30 miles from Coleford to police headquarters in Cheltenham in freezing, snowy conditions to take my 'bike test.
The test was conducted by police inspector Brian Brazil, who was also an authorised DoT examiner.
I passed the test & rode back to Coleford in deteriorating conditions having happily removed the 'L' plates.
So began a lifetime of riding motorcycles.
BAD31K had several modifications during it's service life and the last few images show it in fairly poor condition having been 'civilianised' and offered for sale privately in around 2005. I seriously thought about buying it, but just wasn't able to at this time.
I hope it's gone to a good home & someone is enjoying riding this great little British motorcycle.