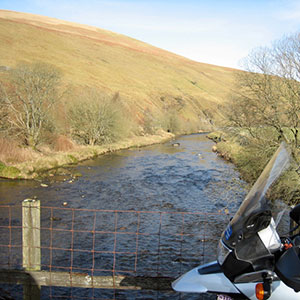 The winters are long in Scotland which means that the motorcycling season can be very short.
Coupled with the fact that the roads are very well salted for extended periods of time this means I'm reluctant to take my expensive BMW R1200GS out & expose it  to ice, snow & salt corrosion.
A heavy motorcycle can also be a bit of a handful on snow & icy roads.
This winter I acquired a much smaller second 'bike, a second hand BMW F650GS, a lightweight single cylinder motorcycle which I would rather ride in winter conditions than not ride at all.
So, today I'm off for a decent circuit of Dumfries & Galloway, to the south & west of Edinburgh.
It was rather frosty when I left Edinburgh but nice and sunny so I headed up Calton Hill to get some photos before leaving town.
With decent motorcycle clothing & thermal underwear it's fairly easy to keep warm, even on the coldest of days.
This was a really good, fun day out in the middle of winter.