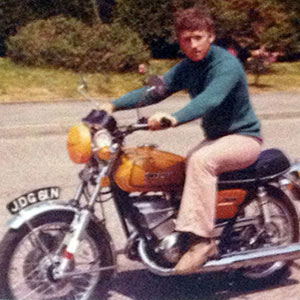 June 14th.
When I took my brand new Suzuki GT250 on a visit to my parents, it was the first they knew of my new acquisition.
I'd been in full time employment for six months (police officer) and needed some transport, so this was it.
Unknown to any of us at the time was that this marked the start of over 35 years of motorcycling, a hobby, pastime, passion, maybe even an obsession.
During this time I've owned 27 motorcycles, 17 new & 10 used.
Of these, 20 were BMW (14 new), 6 Honda (2 new) & one new Suzuki, this one.
I have kept a motorcycling diary so I know I've ridden 177148 miles, 61129 miles of which were on 59 foreign motorcycle tours (35%). I carried a pillion passenger for 33213 miles (19%).
The most miles ridden in one day was 728 on 7th July 2006 to attend the double funeral of motorcycling friends.
The most miles ridden in any year was 18328 in 1996 on my BMW R1100RT, Reg.No:N10CJH.
The most miles ridden on any of my motorcycles was 40308 on the same motorcycle over three years from it's purchase, new, in 1995.
Loads of statistics but no words or photographs can ever convey the enormous levels of fun, adventure, excitement, friendship & contentment motorcycling has given me for over 35 years.