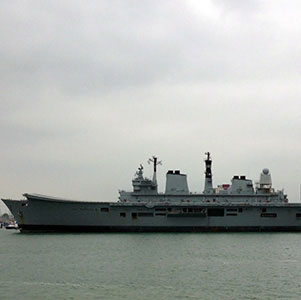 The Royal Navy had no less than five ships named Ark Royal, the last of which was HMS Ark Royal, an aircraft carrier of the Invincible Class.
Ark Royal was launched on the River Tyne in 1981, entered service in 1985 & decommissioned in 2011.
Today HMS Ark Royal left her home port of Portsmouth, not under power but towed by sea-going tugs.
The destination of this once fine ship is Aliaga in Turkey where it will be broken up for scrap metal.
Although it was a second career choice of mine as a young man, I never served in the Royal Navy. However, many sailors past & present, local residents & passers-by lined the edges of Portsmouth harbour to wave farewell. There was many a tearful eye.
Once Ark Royal was clear of the harbour I hurried up the nearby Spinnaker Tower to get a better view as it disappeared into the distance.
A very moving experience.