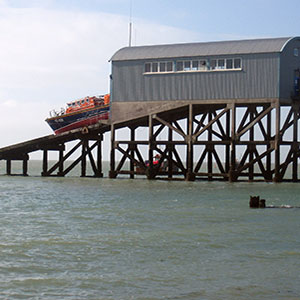 1st April 2017.
The RNLI lifeboat at Selsey, West Sussex is being replaced with a brand new Shannon Class lifeboat which will live in a brand new purpose built boat-house & will launch with the aid of a specially designed tractor/trailer down the shingle beach.
All of which makes the old boat-house & slipway redundant.
Today I saw the last ever slipway launch of the old Tyne Class lifeboat at Selsey, which then did a few circuits around the bay at full throttle.
Wow, what a roar those engines make!
I've never seen a lifeboat launch before, not down a slipway, so this was a very interesting experience, witnessed by a fair crowd on the beach.