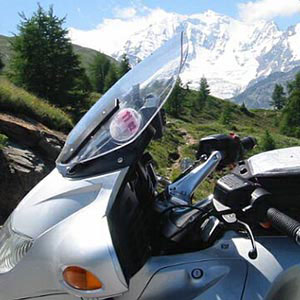 29th June-29th July.
Without doubt this is the longest & most ambitious motorcycle holiday I have ever planned or undertaken.
My 44th overseas 'bike trip was truly epic: 30 days away from home, 2524 miles and travelling some of the most awesome routes in the world.
The resulting photo gallery comprises 533 images and well worth a look, it certainly gives a good idea of our experiences.
Essentially the holiday was divided into three distinct segments:The week long outward journey, the two weeks in Italy & the week it took us to get home.
We took the new Superfast ferry overnight from Rosyth, near Edinburgh to Zeebrugge in Belgium, from where we headed to Italy by the most scenic route I could find.
A week later we arrived, via Venice, at Montelupo Fiorentina, not far from Florence, to the Agriturismo Petrognano, our home for the next two weeks.
Our original idea was to use this as a base from which to explore the region by motorcycle but the reality was that the days were so hot we didn't want to be wearing heavy, hot 'biking gear for a moment longer than necessary.
We went out a couple of times, leaving very early so we got back before it got too hot. Florence was a short train ride away, so that's the way we visited there.
The rest of the time we spent lounging by the pool, drinking Chianti, overlooking the vineyards operated by the Agriturismo we were staying at.
We made new friends, Mike & Marcia from Wales, who had a hire car; very handy for those trips to the supermarket (this was self-catering accommodation).
I dislike returning anywhere using the outbound route, so when it was time to leave this idyllic setting we went back to Zeebrugge via a completely different, but stunningly beautiful scenic route over the Alps.
A holiday of a lifetime? Definitely!
Until the next time….