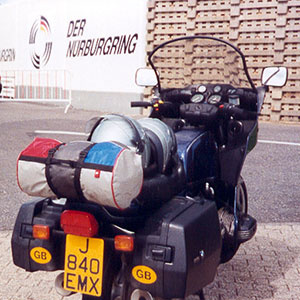 27th-31st August.
I've been following F1 motor racing, maybe most motor sports, ever since I was young and have been to a fair few events over the years.
However, I have never been to a Grand Prix anywhere else than the UK, so this has been a fabulous experience.
I took the ferry from Harwich to the Hook of Holland & made my way directly to my hotel in Monschau, Germany where I stayed for two nights.
Spa-Francorchamps race circuit is only about 20 miles over the Belgian border.
It was a great atmosphere and I left the circuit afterwards thinking that Michael Schumacher had won, Damon Hill second & Mika Hakkinen third.
A couple of hours later I was back at Monschau, in a bar about to have something to eat and there's a TV in the corner showing reports of the race.
The Germans are not very happy at all. Schumacher has been disqualified after the race, unknown to me, for a technical infringement and the race win has been awarded to Damon Hill, the British driver. It also meant that Hakkinen was promoted to second & Jos Verstappen to third.
Of course I'm happy that Hill won, he & Schumacher are fighting for this years's championship, but I was feeling just a little awkward as the only Englishman in that particular German bar that night.
The following day I headed back to the UK with an overnight stop in the Netherlands on the way.