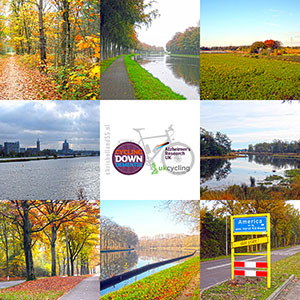 My participation in this year's Cycling Down Dementia campaign, in support of Alzheimer's Research UK is going very well, much better than I expected, in fact.
In the first three weeks of this three month campaign I have cycled a total of 509 km towards my target of 1000 km.
This has been achieved in a series of eight rides, averaging 63.63 km each ride and at an average speed of 18.61 km/h, which I'm very pleased with, given that I only started cycling again in April and the fact it's just pure pedal power, not aided by an electric motor!
According to my tracker I've burned no less than 7770 calories….no wonder I'm consuming so many bananas and still losing weight (I obviously had it to get rid of anyway!).
The story so far can be found here.
To follow my continuing progress and to make a donation to Alzheimer's Research UK please visit my Cycling Down Dementia page.
Finally, I'd like to say a sincere 'thank-you' to those who have supported me so far, with donations and encouragement.
Thank-you so much, I really couldn't do this without you.