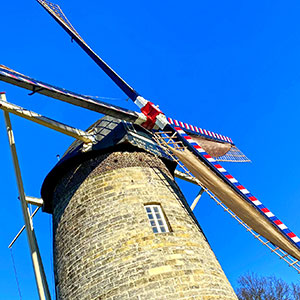 Today's 100 km cycle ride was my longest so far this year.
It was minus 1c when I left home but the early morning sunshine soon warmed me up.
My objective today was to further explore the Maas Valley to the north of Maastricht.
This is such a beautiful part of the Netherlands.
I've cycled along various sections of the Maas in the past two years or so but never this particular 30 km stretch.
Before reaching Maastricht I came across the most impressive windmill, the subject of today's featured image.
Van Tienhovenmolen is located near the hamlet of Wolfshuis and today was in full sail and turning nicely in the strong breeze.
This mill has a long and varied history since being first built in 1855.
After several restorations over the years it is now operational once again and is preserved as a National Monument.
From here I continued to Maastricht and north beside the river Mass.
I think the pictures speak for themselves.