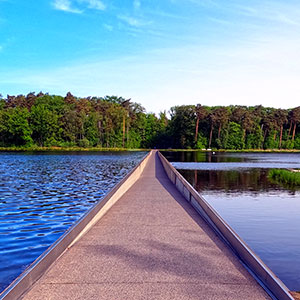 Bokrijk is a 550 hectare nature park and open-air museum to the west of Genk, Belgium.
I have just returned from a two day, 164 km cycle ride to Belgium, which included the most impressive 'Cycling Through Water'. 
My route took me through Hoge Kempen national park, around Genk where I spent the night and on to Bokrijk.
The return journey took me along Belgium's Albert Canal for about 20 km until it meets the Maas river south of Maastricht.
This was a long and challenging ride but thoroughly enjoyable, especially the expansive, peaceful nature reserves.
The featured image today is from 'Cycling Through Water' at Bokrijk.