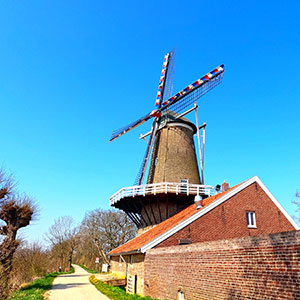 This week's great cycling adventure was a 140 km round trip, spread over two days.
Yesterday morning I returned to complete a big section of the Maasroute.
I was forced to abandon this ride last October because of extreme weather.
The ride from Heerlen to my overnight stop at Ohe en Laak was interesting and mainly on country roads I've never ridden on before.
Today's featured image is of De Hompesche Molen.
The mill is just a short distance from my accommodation at the excellent B&B Ohe en Laak.
Photographs from yesterday may be found here.
This morning I set off again after a healthy breakfast and headed north to Maasbracht where I crossed the river Maas.
From here I cycled south for 40 km on the Belgian side of the river as far as Elsloo.
The ride from here back to Heerlen is familiar to me and enhanced by the warm spring weather.