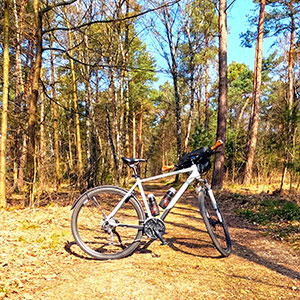 Today's 106 km cycle ride was my longest one day ride so far this year.
It was also the first time my lily-white legs were exposed to the warm spring sunshine.
Summer shorts replaced winter leggings and I have to say it's quite liberating, cooler and much more comfortable.
My route today was a loop to the north of Heerlen, passing in and out of Germany several times.
Today's featured image was taken in De Meinweg National Park near Herkenbosch and close to the Dutch/German border.
This is a huge forested area criss-crossed by cycle/foot paths and today I rode about 8 km through this beautiful, peaceful area.
From here I headed south towards home.
About 10 km further on I came across Lago Laprello, near the German town of Heinsberg.
This is a man-made lake, a former gravel pit that is now an extensive nature reserve and recreational area.
I paused here for a while, soaking up the sunshine and taking a few photographs before making my way home.
Another truly fabulous day out on the bike.