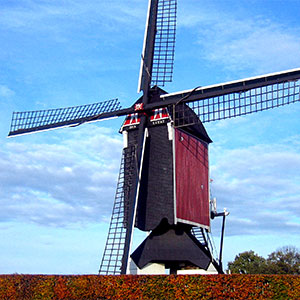 It was a chilly 5 degrees when I left home this morning for a 53 km ride to the north of Weert.
Fortunately my multi-layered winter cycling ensemble did a great job of keeping body heat in and the cool temperatures out.
At about the halfway point of my planned ride I passed through the small hamlet of Vaarsel in North Brabant and came across the most impressive windmill, on raised ground next to woodlands.
Molen Den Evert dates back to 1543 and has been re-located once and restored several times over the past 477 years.
This mill was used to mill flour and is still in occasional use today, manned by an enthusiastic group of volunteers.
Moving on, I circumnavigated the nearby town of Someren and headed south, homewards, alongside the Zuid-Willemsvaart canal.