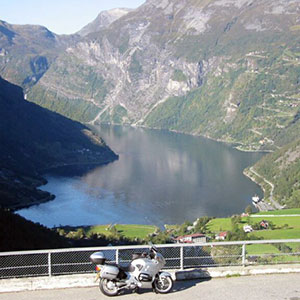 24th September-4th October.
With a ferry connection not so far away in Newcastle, linking the UK with Norway, a motorcycling trip there has been close to the top of my 'to-do' list for quite some time.
I started thinking seriously about going this summer, last winter, with a combination of priorities delaying my departure  until late September.
My friends in Oslo (which wasn't on my route this time) sent me detailed maps and route suggestions and I had planned what I thought was the perfect route to Nordkapp and back.
This was a truly magnificent tour and the fun started on the ferry.
In the queue I'd met up with two Australian's who were literally travelling the world in a very old Land Rover.
We would eventually end up sharing a cabin as I'd opted for a shared male cabin rather than pay a fortune for a single cabin to myself.
The fourth occupant of the cabin was a Hungarian singer who retired to the cabin much later than the rest of us, very much the worse for wear and singing at the top of his voice. We were too squiffy for it to bother us too much and I think our collective snoring may have disturbed several cabins around us more than the singing.
Before getting to Bergen the following evening, the ferry, 'Jupiter', stopped off at Stavanger & Haugesund for the shore transfer of goods, vehicles and passengers. It was an interesting crossing.
Leaving Bergen I headed north. I hadn't booked accommodation in advance, preferring to stop where & when I felt like it. There would not be much problem for one person to get B&B each night.
A few days later the weather was getting colder and wetter and I pulled into the closed Arctic Circle visitor centre on the E6 road at Storforshei just as a squall of sleet & snow swept over the car park.
It cleared quickly and photographs were taken.
Just as I prepared to leave to continue my journey north a 4×4 pick-up with quite a lot of snow stuck to the front.
The driver spoke perfect English and helped me get a photo of myself by the arctic circle marker. He also asked where I was going and when I told him Nordkapp, he said 'not until spring'. Apparently the road north was blocked by snowdrifts a few kilometres ahead.
The Norwegians being well used to their own climate rely on the Hurtigruten to move goods, vehicles and people between Bergen and Kirkenes in the far north, stopping at dozens of communities along the way, in each direction. They have a large fleet of all-weather ships enabling a daily service, which I will need to try one day.
Anyway, faced with the fact I can't go further north, I turned around and headed south and the east into Sweden where I was greeted by torrential rain. It was, by now, late afternoon so I quickly found a small hotel for the night.
I spent the rest of my holiday in Sweden before returning to Bergen for the ferry back to the UK.
My 355 photographs show the magnificent beauty of Scandinavia and I cannot wait to return when the weather improves.