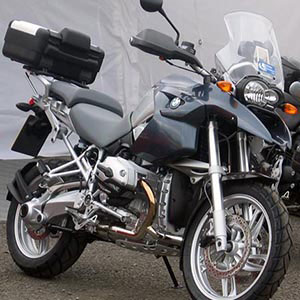 This is a collection of photo's of my second BMW R1200GS which I acquired last August as a warranty replacement for my first brand-new BMW R1200GS, which failed spectacularly in Norway last summer, more of which elsewhere.
I managed three foreign tours and 9415 miles on GS #2 before it too failed spectacularly.
Here's the story: One morning I was just leaving home & at the very end of the private lane where I live, I was travelling at around walking place when I applied the brakes in order to stop before entering the main road.
Nothing happened, the brakes did not work & I continued rolling, very slowly to the middle of the road, which fortunately was clear of traffic. It's very difficult to stop a runaway motorcycle of this weight with zero brakes, but I think it was the camber of the road which probably saved the day.
This motorcycle was fitted with a very advanced electro-mechanical ABS braking system, which was powered when the engine was running.
BMW assured customers that there was 'residual braking action' in the event of engine power or electrical failure but in this particular incident there was absolutely zero evidence of this.
I dismounted, shaking, in total disbelief that my six month old BMW suffered total brake failure, and pushed the stricken 'bike back to my garage.
About 35 minutes after my phone call, BMW Assistance arrived and plugged the 'bike into a diagnostic computer which confirmed that the central control module for the braking system had indeed failed. It was perfectly okay the previous day.
John Clark BMW in Dundee, the supplying dealer were great. They were obviously aware of my previous problems with BMW R1200GS #1 and within an hour or so their van arrived to take my BMW away for repair. A courtesy 'bike was offered & declined, as I had no plans to ride for a few days.
About a week later my repaired 'bike was returned to me in the dealer's van. Apparently the whole motorcycle had to be dismantled in order to replace not only the control module but several other major components of the braking system.
The van driver unloaded the 'bike and invited me to inspect it before signing for it.
To my dismay, no, horror, I found a small bolt & washer sitting loose in the cooling fins of the engine, certainly not there before & no doubt related to the recent re-build of my six month old BMW.
My thoughts, and words, to the van driver were something like 'You've just taken my BMW to pieces & put it back together again. There seems to be a piece left over, what else has been forgotten?'
I rejected delivery & did not sign the delivery note. After conferring with his manager at the dealership the driver loaded the 'bike back on the van and returned it to Dundee.
Relating back to my earlier experience with GS #1 and the superb manner in which John Clark BMW had handled the matter right from the initial breakdown near the north Cape of Norway, the warranty claim & subsequent replacement with another brand-new BMW R1200GS, I dealt once again with the dealer principal.
To be fair & balanced, he was as horrified as me at this turn of events and asked for 24 hours to (a) investigate the matter & (b) propose a resolution.
The following morning I learned that the technician that worked on my 'bike had been sacked for gross negligence & that I would be supplied with another brand-new BMW motorcycle of my choice, to the same value.
I decided that despite two negative experiences I liked this model enough to give it a third try. Third time lucky?
They were therefore asked to supply BMW R1200GS #3.
John Clark BMW made it clear to me that it was actually themselves who were replacing the 'bike under their 'goodwill policy' and not BMW GB, under warranty.
I have to say this is probably the finest example of 'owning the problem' that I have ever experienced.
Thank you John Clark BMW in Dundee.