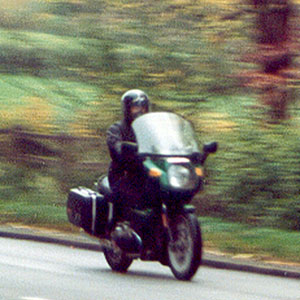 This beautiful BMW R100RT in Smoke Green is the first BMW motorcycle I've owned and it's fabulous.
I even had my crash helmet custom painted to match, although it's a bit difficult to see in this photograph.
Determined to get a self-taken photograph of me riding the BMW, I set my camera on tripod at the side of a deserted road in the Forest of Dean.
The camera had a motorised film winder and a timer which I set for about two minutes & I aimed it at the road where I would be riding.
I rode up & down the road quite slowly and after two or three attempts hoped I'd got some good photographs.
When I had the film developed a few days later I discovered, much to my disappointment, that only a couple of shots filled the frame, the majority being half out of shot or just the road.
This is the only image that remains from this experiment.