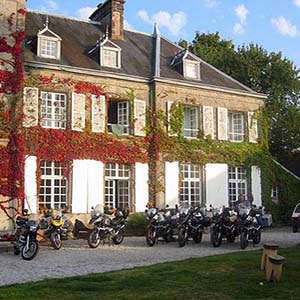 19th-26th September.
GS Club UK organised a few days at the Chateau Le Mont Epinguet, south of Cherbourg, France.
Due to a last minute cancellation I was invited along despite me riding the only BMW R1150RT tourer amongst a large number of BMW GS 'bikes.
We arranged to meet in Poole for the early morning ferry to Cherbourg & I was instantly made welcome in this new group of 'bikers that I'd never met before.
The Chateau is owned & managed by a lovely English couple and is ideally placed for exploring the area.
We enjoyed excellent hospitality in the evenings, consuming more than a few beers or bottles of wine while we swapped old motorcycling stories. A great time was had by all.
When it was time to go home, I left them to catch the ferry back to Poole while I headed across northern France & Belgium to catch the Superfast ferry from Zeebrugge back to Rosyth, near my home in Edinburgh.
This was obviously an unplanned, last minute trip for me, but thoroughly enjoyable to spend some time with new friends.