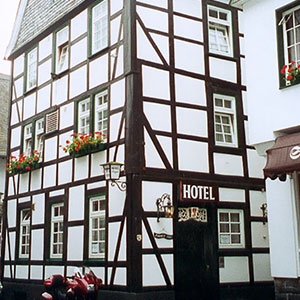 20th-31st August
I'm having to rely on my motorcycling diary (& memory) for details of this great tour, as only three photographs still exist. I have no idea what happened to my customary zillions of pictures.
This is my first overseas motorcycle tour since moving to Scotland and my 37th overall, covering some 1822 miles.
We took the Newcastle to Ijmuiden ferry and then headed north for our first overnight stop, in the Netherlands.
The route continued to Berlin, Prague and then Monschau in Germany where we spent two nights in order to see the Belgian F1 Grand Prix at Spa-Francorchamps circuit, just over the border in Belgium.
I'd bought tickets weeks ago so I was definitely not going to miss it.
For the record, Mika Hakkinen won, Michael Schumacher second and his brother Ralf third.