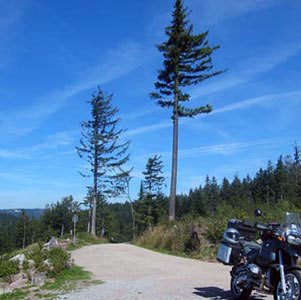 16th-20th September.
Leaving my friends at the Chateau Le Mont Epinguet as they prepared to head back to the UK, I was heading for Germany for a few days.
The main objective was to visit Intermot  & the Octoberfest in Munich, more of which in another post.
It was a great ride across France, into Germany, through the Black Forest & arriving at a nice B&B on the outskirts of Munich in the late afternoon.
After my interesting stay in Munich I headed back through Germany to stay, for the first time, at the Hotel Forsthaus in Volkesfeld.
The following morning I visited the museum at the Nurburgring circuit before heading to Ijmuiden for the ferry back to the UK.