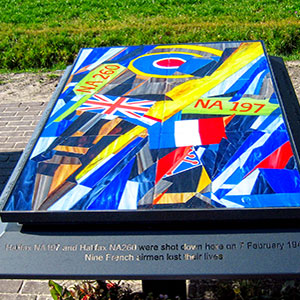 Today I continued my mission to practice safe 'social-separation', whilst exercising outdoors, as prescribed by the Dutch authorities in light of the corona virus pandemic.
My 50 km cycle ride took me firstly to Veluwepeel in North Brabant to see the new memorial to WW2 airmen from two crashed RAF Halifax bombers, that I wasn't able to see when I passed this way a few weeks ago.
Designed & constructed by a local artist, the memorial consists of a sloping steel frame with a brightly painted ceramic top, bearing around the edges the names of the fallen airmen with two painted metal benches alongside, fashioned in the shape of Halifax aircraft wings.
At the rear of the monument is a toughened glass capsule containing fragmented metal pieces of both aircraft, recovered from fields nearby.
Spring has certainly arrived here, with warm sunshine and the inevitable 'March Winds' from which it's difficult to find shelter in the flat and exposed countryside.
However this is a very peaceful spot and a very fitting location to remember the brave aircrews who perished nearby 75 years ago.
From here I continued northeast towards Heusden before turning southwards around Meijel and the road home, effectively completing a circuit around De Groote Peel national park that I cycled part-way around earlier in the day.