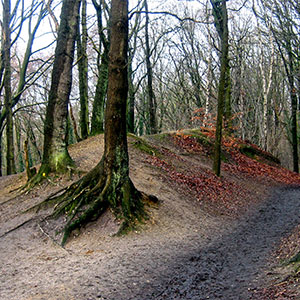 Today's 13 km cycle ride was my first outing of 2021.
It was also the first opportunity I've had to explore my new surroundings, having relocated to Heerlen in south Limburg (Netherlands) at the turn of the year.
Since the beginning of January we've experienced sub zero temperatures just about every day as well as a sprinkling of snow a couple of days ago.
Having moved from a predominantly flat area of the Netherlands, some 50 km to the north west, the most striking difference in and around Heerlen are the hills. Lots and lots of hills.
I last rode my bike 24 days ago so I had no idea how much fitness I'd lost over the festive/new year period so today's route was deliberately short.
Cranenweyer is a man made reservoir created amongst the spoil heaps from past mining activities in the area.
It is now a 20 hectare fishing lake and walking destination.
Even on such a short ride I encountered many hills, some steeper and longer than others and my legs feel as if they've cycled at least three times further than they actually have today.
With many new rides planned to help me explore my new environment I have a feeling 2021 will be a great cycling year.