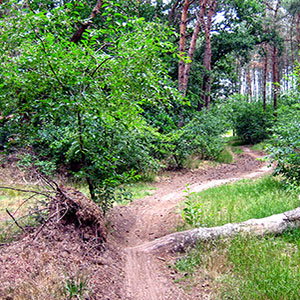 I decided to have a short ride of just 42 km today and instead of planning my own route I copied one from the internet, just for a change.
This proved to be a slight error and will teach me to study such routes a little more carefully in future.
After about 5 km I found myself in woodlands between Weert and Maarheeze, discovering the track I was following was actually a designated MTB (Mountainbike) route.
Before cycling much further I realised it was considerably more challenging than the 'normal' forest trails I'm used to riding, but I continued anyway.
All in all about 70% of today's ride was on unpaved forest tracks including a 2 km section which was like a switchback with very deep hollows and steep raised sections.
My bike coped admirably with all the terrain we encountered and I certainly brushed up on my bike handling skills.
In woodlands known as 'De Heide' to the west of Maarheeze I came across a memorial to a Dutchman, named Antoon Meurkens who was apparently murdered by retreating German SS soldiers as the area was being liberated by allied forces.