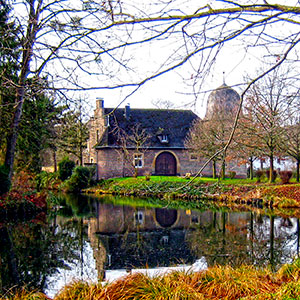 My 40 km cycle ride today took me to the north and east of Heerlen, including a few kilometres in nearby Germany.
Snow is forecast over the next few days so I made good use of a nice sunny morning even though it was quite chilly.
Rimburg is a small village in the Netherlands right on the border with Germany.
Today I visited this picturesque village twice, firstly at the 13.5 km point of my outbound journey and again, from the German side at the 26.5 km point of my homebound journey.
The national boundary here is the river Worm/Wurm.
Here I turned left by the Schloss Rimburg and remained in Germany for a few kilometres more.
I crossed back into the Netherlands near Haanrade where I encountered the longest, steepest climb of the day.
The 1.4 kilometre length of a narrow country lane ascended sharply with a 14.4% incline, another severe test of legs and lungs, but I just about managed it without resorting to pushing the bike.
Not far from home I passed through the Dutch hamlet of Ham where I found another impressive castle, Kasteel Erenstein, which like so many others at the moment, is closed to visitors.
This was another great cycle ride in South Limburg and my longest so far this year.

Note: 6 km from home, at Kerkrade, my iPhone which houses my Ride with GPS app. decided to shut down, probably due to the extreme cold.
Therefore the final leg of today's ride has been created manually and added below.