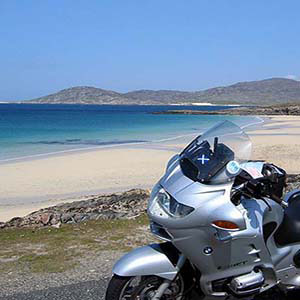 11th-17th May.
A 'biking friend of mine, Mike Chalmers moved to Scotland from Lancashire in 2000 after he retired from the police service.
He subsequently decided to start a business offering week long guided motorcycle tours of the Western Isles of Scotland, called:Island Fling Motorcycle Tours.
Mike & his wife Sheila, another retired police friend Frank & myself went on a trial run trip around the Western Isles for a week.
I took many photographs to use on the website I subsequently built for Island Fling Motorcycle Tours.
This was a really great guided tour with stunning scenery, decent weather & comfortable overnight stops.  All in all a very good business proposition & I wish Mike & Sheila every success.