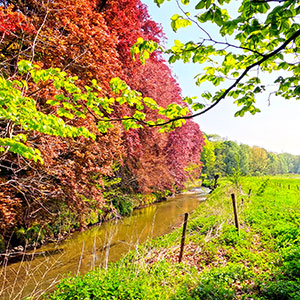 Today's 55 km cycle ride was a nice loop to the west of Heerlen, in the direction of the Dutch city of Maastricht.
It was a simple route on fast cycle tracks and I made good progress all morning in the warm spring sunshine.
After the long ascent from Gulpen I came across the Netherlands American Cemetery at Margraten.
It was quite busy, even though it was early in the day.
Today is Remembrance Day in the Netherlands.
As I turned to head homewards at around the 30 km mark I could see Maastricht clearly spread out in the river valley below.
Moving on I passed through Valkenburg and paused for a while near the attractive Kasteel Schaloen near Schin op Geul.
Today's featured image is of the Kleine Geul river which runs through the castle estate.