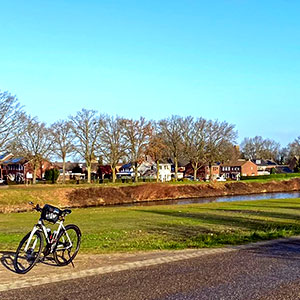 Today's 60 km cycle ride is only the second time I have cycled outside this year.
My ride to Urmond/Stein in South Limburg was essentially two separate rides, out and back on the same route, separated by an extended lunch break in Stein.
It's a route I've travelled quite a few times before and includes a number of hills to climb.
Today these seemed a little easier than usual and confirmed that my legs have not turned to jelly over the winter.
I'm extremely grateful for the many indoor spinning sessions I've done this month which have been essential in maintaining my fitness levels.
Not so many pictures today, too cold to remove my thick thermal gloves, but there are some from the canal side at Urmond.