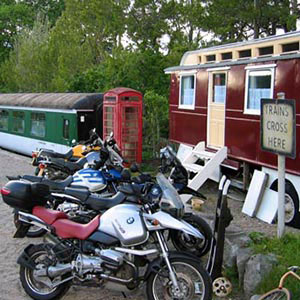 There cannot be a better place to base yourself to explore Sutherland, way up in the north of Scotland that the converted railway carriages at Sleeperzzz at Rogart.
A great couple of days riding in good company with food & drink available at the nice pub nearby.
I'm riding the new model BMW R1200GS, loaned to me by John Clark BMW in Dundee.
I have one on order with them but unfortunately it did not arrive in time for this pre-planned motorcycle trip, so they helped me out. Thanks to John Clark BMW.