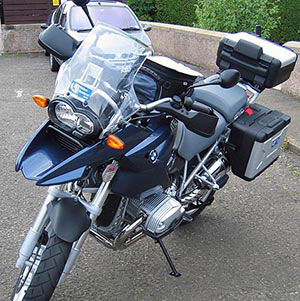 After a succession of large BMW touring motorcycles I decided, just for a change, to buy one of the newly launched BMW R1200GS models from John Clark BMW in Dundee.
Big Sylvia, my BMW R1150RT had been sold over the winter to a nice guy from Northern Ireland who flew over from Belfast to Edinburgh to collect it after seeing it for sale online.
I ordered the GS about 6 weeks ago and once fitted out with all the luggage it has just about the same touring capability as the RT. It's missing the big, protective fairing of the RT, so it'll be a little more windy.
The side panels of the GS were painted blue to match the rest of the 'bike. They were originally grey but John Clark BMW changed the colour before I took delivery.
I'd taken an extended test ride (by borrowing a 1200GS last weekend!) so I had become used to how much taller the GS is compared with the RT. Tip-toes needed to touch the ground when stationary.
It was great riding the GS home but I didn't ride it again for over a week as I was busy elsewhere and also had to fit all the luggage & other toys before taking it out again.