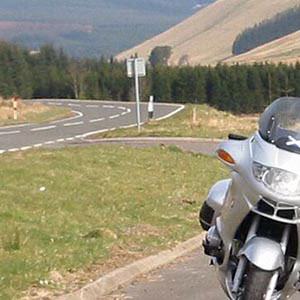 Dumfries & Galloway is an area in the south west corner of Scotland, with a significant border with England.
It's a good ride out from Edinburgh but a day spent here provides fabulous scenery together with great, twisty 'biking roads.
Today was spent experimenting with my camera, to maybe get some 'rider's eye view' images as I rode along.
The 'bike required me to at least hold on to the right hand grip, the throttle, to maintain control.
I'm actually travelling quite slowly, never more than about 50mph.
My newly acquired digital camera was slung around my neck and holding it in my left hand meant holding it upside down and using my thumb to operate the shutter button.
Post ride I simply turn the images upside down (so that they are now the right way up!) before putting them in my online album.
I have to say I'm quite pleased with the results, what do you think?